Maaike Beech | Counsellor/ Senior Therapist/ Supervisor/ Trainer
✓ I also offer online therapy
Great, you are taking the first step.
Leave a message and I will contact you as soon as possible.



Contact me
Counselling Southend-on-Sea
Welcome!
​It can be such a step to reach out for help, picking up the phone and start counselling or therapy. Sometimes it's difficult to know when to ask for help. I believe that no-one should have to struggle alone. I believe that there is always hope! Hope to recover, hope for feeling better, hope to get out of a place of feeling stuck. Whatever it is, or whatever you are going through, you don't have to do it alone.
With 13+ years experience I provide counselling and trauma therapy in a safe way for young people and adults who may be struggling. I find it important that we work in a pace that suits you, rather than going too quickly (or too slow). I work by the ethics of the BACP Ethical Framework, to ensure we are both safe.
I work with a wide variety of difficulties, such as depression, anxiety, bereavement, trauma, self-esteem and work related stress. I am experienced and trained in providing one-to-one integrative counselling, relationship and family counselling, as well as trauma therapy. This includes working with Person-Centred Therapy, Cognitive Behavioural Therapy, Transactional Analysis, Trauma-Focused CBT, the Rewind-Technique, and Solution-Focused Therapy. I also deliver a range of counselling training and supervision for trainee counsellors, as well as experienced qualified counsellors.
If you feel you are struggling, please don't hesitate to contact me. I believe it is very important that you feel comfortable with your counsellor or therapist. We can therefore use a first appointment to get to know each other better, and to spend some time figuring out how counselling or trauma therapy might be helpful for you.
Online therapy
With the virus of COVID-19 running rampant across the United Kingdom, I now also offer telephone and online counselling and therapy. This may be a suitable and safe alternative to meeting up face-to-face, especially if you or someone in your household feels unwell, or belongs to a vulnerable group.
Telephone and online counselling will be structured in a similar way to face-to-face sessions: We will book a particular date and time, at which the sessions will take place. Online counselling can take place through either Skype or Zoom, whichever option you prefer. Before the first session takes place, we will take a little time to ensure all technology works well, after which the session can take place.
If you would like to access telephone or online counselling or therapy, it may be helpful to think about what might be a private space for you to be in, when accessing these sessions. If you have any questions as to how this works, or if you would like to start this up, please don't hesitate to contact me!
Statement concerning the coronavirus pandemic
These are difficult times for many people, with the corona virus spreading across the United Kingdom. The virus is likely to impact many people, whether it is through health, social contacts, work, or finances.
Counselling or therapy can help to manage your worries, anxieties and stressors. You may find that counselling can help you navigate this anxious time.
If it is safe to do so for both parties, we can have face-to-face sessions, whilst abiding by all government guidelines. This includes to keep 1.5-2meters distance between us, avoiding handshakes, etcetera. If you however feel unwell (fever, cough, etcetera), someone in your household is unwell, or if you belong to a vulnerable group (such as being the age of 70+, having an underlying illness, being pregnant), you can also access telephone or online counselling. This might be a safe alternative and a way for you to still have counselling, whilst not leaving the safety of your own house.
If you have any questions about this, please don't hesitate to contact me!
Qualifications and registrations
2020 - Qualified Cyber Therapy - Children and Young People - Ongoing
2019 - Advanced Diploma Psychotherapy (Distinction)
2018 - Certificate Counselling Supervision
2018 - Practitioners Diploma Cognitive Behavioural Therapy
2017 - Diploma Therapeutic Counselling
2009 - BSc (Hons) Social Work, Dutch Equivalent of BSc Degree Counselling
2006 - BSc Degree in Teaching
Registrations
Specialisations
I specialize in working with any form of trauma, including domestic abuse, sexual abuse (including CSA/ CSE), car accidents, traumatic bereavements, sudden illness, trafficking and torture. I am trained in the Rewind-Technique by the Human Givens College. The Rewind-Technique is a gentle trauma-technique which allows you to process the traumatic memory whilst feeling safe and present.
I have also been trained in Trauma-Focused CBT by the Anna Freud Centre in London, which is a gentle way to increase a sense of safety, working to manage your post-trauma symptoms such as re-living, avoidance, hyper-arousal and negative views of yourself or the world. We can look at processing some of the feelings or traumatic experiences as well. Some people find that very helpful, for others it may not be necessary. The sessions will always be tailored to your wants and needs.
Aside from specializing in trauma, I also specialize in working with bereavement and loss. I work for a Hospice in Chelmsford, and have provided bereavement counselling through the years in both the Netherlands and the United Kingdom. A loss may include a loss of a job, marriage, contact with family, house or a pet. If you feel you are struggling, please don't hesitate to contact me.
Therapies offered
Areas of counselling I can help with
Member of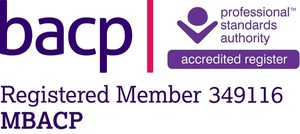 Fees
* One-to-one counselling/ trauma therapy: £45 for a 50-minute session
In addition to face-to-face counselling, you can also access telephone or online counselling.
There are discounted rates available for students and people facing financial difficulties.
One-to-one supervision:
* Qualified counsellor: £65 for 1.5 hours
* Student counsellor: £35 for 1 hour, £45 for 1.5 hours
Availability (Opening hours)
| | |
| --- | --- |
| Monday | 8am - 8pm |
| Tuesday | - |
| Wednesday | - |
| Thursday | 3pm - 6pm |
| Friday | 8am - 05:30pm |
| Saturday | - |
| Sunday | - |
Photos
Location