Maaike Beech | Counsellor/ Senior Therapist/ Supervisor/ Trainer
Contact me
Counselling Southend-on-Sea
Welcome!
​It can be such a step to reach out for help, picking up the phone and start counselling or therapy. Sometimes it's difficult to know when to ask for help. I believe that no-one should have to struggle alone. I believe that there is always hope! Hope to recover, hope for feeling better, hope to get out of a place of feeling stuck. Whatever it is, or whatever you are going through, you don't have to do it alone.
With 12+ years experience I provide counselling and trauma therapy in a safe way for young people and adults who may be struggling. I find it important that we work in a pace that suits you, rather than going too quickly (or too slow). I work by the ethics of the BACP Ethical Framework, to ensure we are both safe.
I work with a wide variety of difficulties, such as depression, anxiety, bereavement, trauma, self-esteem and work related stress. I am experienced and trained in providing one-to-one integrative counselling, relationship and family counselling, as well as trauma therapy. This includes working with Person-Centred Therapy, Cognitive Behavioural Therapy, Transactional Analysis, Trauma-Focused CBT, the Rewind-Technique, and Solution-Focused Therapy. I also deliver a range of counselling training and supervision for trainee counsellors, as well as experienced qualified counsellors.
If you feel you are struggling, please don't hesitate to contact me. I believe it is very important that you feel comfortable with your counsellor or therapist. We can therefore use a first appointment to get to know each other better, and to spend some time figuring out how counselling or trauma therapy might be helpful for you.

Qualifications and registrations
2006 - BSc Degree in Teaching
2009 - BSc (Hons) Social Work, Dutch Equivalent of BSc Degree Counselling
2017 - Diploma Therapeutic Counselling
2018 - Practitioners Diploma Cognitive Behavioural Therapy
2018 - Certificate Counselling Supervision
2019 - Advanced Diploma Psychotherapy
Registrations

Specialisations
I specialize in working with any form of trauma, including domestic abuse, sexual abuse (including CSA/ CSE), car accidents, traumatic bereavements, sudden illness, trafficking and torture. I am trained in the Rewind-Technique by the Human Givens College. The Rewind-Technique is a gentle trauma-technique which allows you to process the traumatic memory whilst feeling safe and present.
I have also been trained in Trauma-Focused CBT by the Anna Freud Centre in London, which is a gentle way to increase a sense of safety, working to manage your post-trauma symptoms such as re-living, avoidance, hyper-arousal and negative views of yourself or the world. We can look at processing some of the feelings or traumatic experiences as well. Some people find that very helpful, for others it may not be necessary. The sessions will always be tailored to your wants and needs.
Aside from specializing in trauma, I also specialize in working with bereavement and loss. I work for a Hospice in Chelmsford, and have provided bereavement counselling through the years in both the Netherlands and the United Kingdom. A loss may include a loss of a job, marriage, contact with family, house or a pet. If you feel you are struggling, please don't hesitate to contact me.
Therapies offered
Areas of counselling I can help with
Member of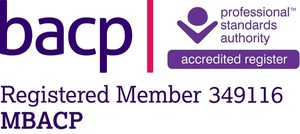 Fees
* One-to-one counselling/ trauma therapy: £45 for a 50-minute session
There are discounted rates available for students and people facing financial difficulties.
One-to-one supervision:
* Qualified counsellor: £65 for 1.5 hours
* Student counsellor: £35 for 1 hour, £45 for 1.5 hours
Availability (Opening hours)
| | |
| --- | --- |
| Monday | 08:00 - 17:30 |
| Tuesday | - |
| Wednesday | - |
| Thursday | - |
| Friday | 08:00 - 17:30 |
| Saturday | - |
| Sunday | - |
Photo's
Location