Michele | Relationship Coach & Therapist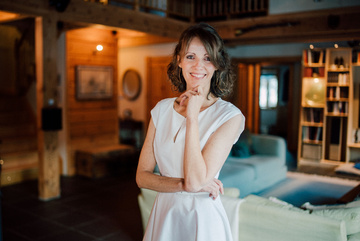 Relationship Coaching Harley Street - London




Harley Street




W1G9PG

London

Send a message
✓ I also offer online therapy
Great, you are taking the first step.
Leave a message and I will contact you as soon as possible.




Relationship Coaching Harley Street - London
My name is Michele, I am a Professional Certified Relationship Coach, Mentor and a qualified psychotherapist. I welcome individuals and couples for relationship coaching and counselling to my office space in Harley Street, Marylebone - London, or for sessions via zoom.
Who I work with:
I work with high achieving, successful men and women who know there is room for more in their love life. Compared to their business or career this is usually an area of their life that falls short of their expectations.
What I would like you to know:
Men and women have been conditioned to create stagnancy, avoidance and 'separation' in their relationships. It is no wonder that so many couples struggle over the long-term.
The honey-moon phase can be wonderful but the realities of life can soon take their toll on any relationship. Men and women need to find a way to work together rather than against each other.

This is why your relationship is crying out for healthy polarity.

Healthy Polarity ensures that the differences between men and women are honoured in a way that makes the most of each others strengths.

I also struggled in my marriage and spent much time and money trying to find a solution. Eventually I came across little known information, that was regarded 'unpopular' advice. This changed everything for my husband and I.

Since then, I have worked tirelessly to uncover the nuances of this transformational work. I have devised a framework that helps you to access your own true power to change the dynamic in your love life.

The trouble is, the framework of relating that you have been operating under so far (as a result of societal conditioning) is based on shaky ground. It encourages codependency in relationships, where you feel reliant on your partner to be the one who needs to change.

Once you realise that you have much more power than you have been led to believe, you have the opportunity to make a radical change.

Within the new framework of relating I use a combination of somatic (body) and cognitive (mind) based coaching, mentoring and therapy. This work is designed to help you create a more intimate relationship with yourself. This is crucial! If you cannot create this with yourself, you will not be able to create it with your partner.
This has very little to do with the self love movement that is very surface based. It requires a nuanced approach to help you free up your energy in your body, so that you become more 'magnetic' in your relationship.

Energy is key when it comes to relationships. My work will help you master your energy so that you can turn the tide against any sabotage patterns that are leading you. When sabotage does not get a chance to lead, then everything can change.
If you have any questions or would like to speak to me about getting support, please feel free to send me a message.
Online therapy
I work with individuals and couples from many different countries via zoom. Working online is just as effective as face to face work. However, if you prefer in person support I welcome you to my office space in Harley Street, London.
Qualifications and registrations
Co-Active Professional Certified Coach (CPCC), recognised by the ICF (International Coach Federation).
Contemporary Psychotherapist - Beeleaf, London, UK.
Imago Relationships Facilitator.
Registrations
Specialisations
I specialise in working with couples who fall into the three categories below:
Couples who are in crisis - couples who find themselves at a crossroads. They may have experienced an infidelity and significant trust issues. Often there is repetitive conflict that they cannot seem to move past.
Couples who are looking for clarity as to whether divorce or separation is the next step for them.
Couples who have noticed that their relationship is stagnating, whether in the form of a lack of emotional connection or physical intimacy and want to renew the conenction between them.
Depending on your situation I recommend a series of sessions over a number of months. If you fall into categories 1 or 3 above it is important to commit to at least 16 sessions. In my experience this is what will give you the best result. We need to remember that our sabotaging patterns have generally been around for years. It is going to take some time to 'undo' them.
I offer varying degrees of support in my relationship coaching and therapy programmes; ranging from support within sessions only, to full support where you can access my guidance in between sessions.
Most common issues I support people with:
My clients experience a range of issues that impact their relationship.
They may suffer from stress related anxiety, anger, loneliness, low self esteem and perfectionism.
They are usually high functioning individuals with successful careers or businesses. Their intelligence has helped them create such success in their work lives but they have failed to repeat the same kind of success when it comes to their relationship or marriage.
They want to do better and be better in their relationship. They do not want to be an angry or passive aggressive person, but for some reason they seem to become reactive with their partner.
My work is highly nuanced and as a result will help you move past issues that you may have been struggling with for a long time. I have created The Profound Permission Method
™, which is extremely effective at releasing the trapped energy that fuels your behavioural patterns.
Areas of counselling I can help with
Fees
The per session price within my Relationship Coaching programmes start at £700 (depending on the type of support you opt for).
Availability (Opening hours)
| | |
| --- | --- |
| Monday | 11am - 7pm |
| Tuesday | 11am - 7pm |
| Wednesday | 11am - 7pm |
| Thursday | 11am - 7pm |
| Friday | 11am - 6pm |
| Saturday | 11am - 5:30pm |
| Sunday | 11am - 5:30pm |
Location